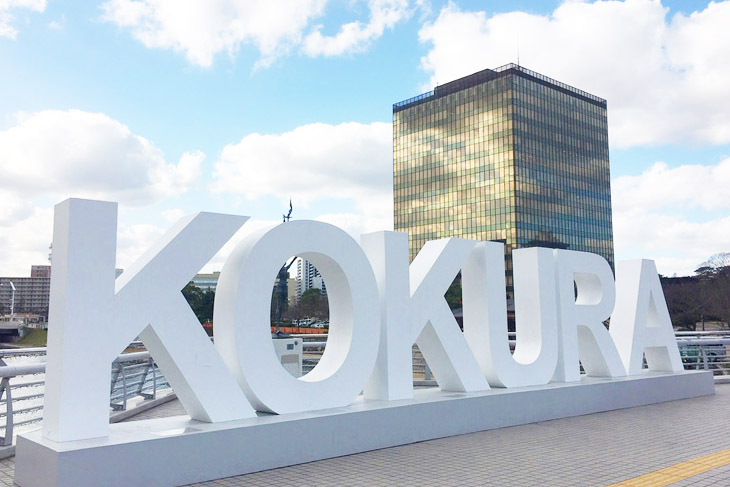 Which do you like better, the sea or the mountains?
Kitakyushu has both!
Are you interested in Japanese history, culture, tradition, modern life, nature, economy or the environment? You can learn and experience everything in Kitakyushu! Kitakyushu is located in the northern tip of Kyushu island in Japan. Kitakyushu played a significant role in the history of Japan and supported Japan's modernization!
We would like to share some tips with you. Check out the best things to do in Kitakyushu! Come and visit our city to explore something new with a government licensed tour guide!
1. What a stunning wisteria shower!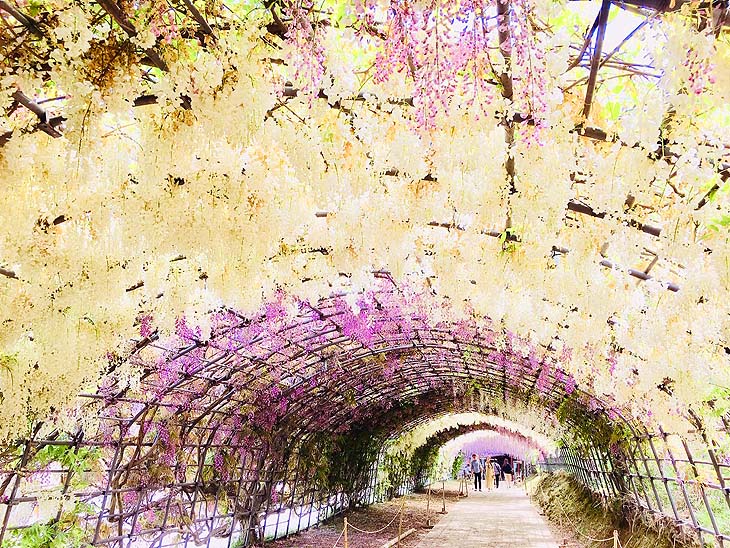 Admire the beauty of wisteria at Kawachi Wisteria Garden (Kawachi Fujien). If you are in Kitakyushu city from the end of April to the beginning of May, you must visit Kawachi Wisteria Garden. This garden was selected as one of the 31 most beautiful places in Japan by CNN. There are 22 kinds of wisterias and people are fascinated by their beauty every year.
Walk under 110 m long wisteria tunnels in the Kawachi garden, the gradation of colors is breathtakingly beautiful! What's more, you can enjoy the new green leaves of 700 maple trees here during the wisteria season. Of course, don't miss the color of maple in autumn from the middle of November to the beginning of December.
2. History as a castle town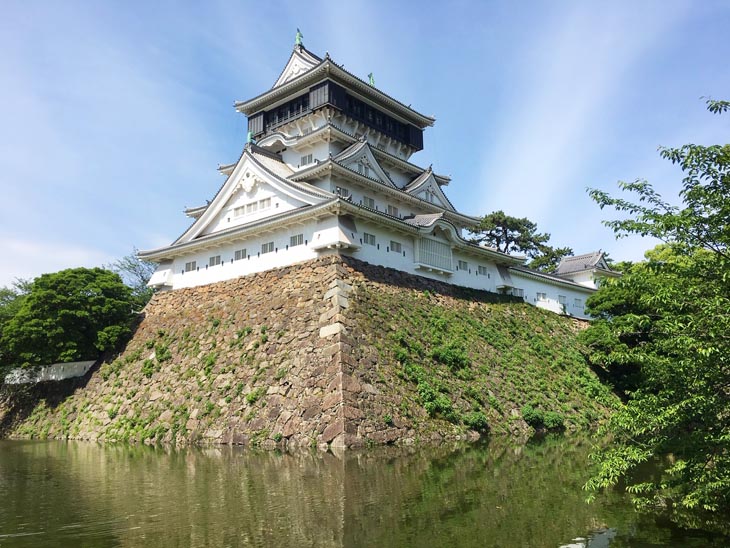 Kokura castle is a symbol of the city, which was founded in 1602 by a feudal lord, Hosokawa Tadaoki. Kokura was a pivotal domain since it was an important transportation hub at that time.
The characteristic of the castle is that it looks like a four-story tower, but it is made up of five-floors. Unfortunately, the entire castle was destroyed in a fire in 1837. Two years later, the castle was rebuilt except for the castle tower. In 1866, the castle was burned again in a war. In 1959, just the castle tower was reconstructed with reinforced concrete. The castle is used as a museum now, where you can learn about the rich history of Kokura castle. After the Hosokawa clan was transferred to Kumamoto, new leaders, the Ogasawara clan, ruled this area for 234 years.
Kokura castle garden and the villa were reconstructed nearby where you can enjoy the view of the castle from the garden.
3. Festival and fireworks display lovers!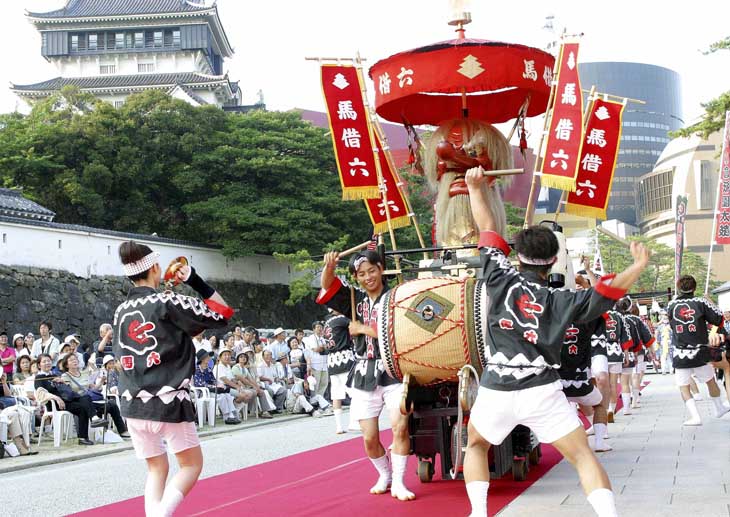 There are many festivals held in summer, in Kitakyushu city.
Kokura Gion Drum Festival, held in the third weekend of July, was designated as an important intangible folk cultural asset in 2019. It imparts national prosperity, bountiful harvests, prosperity for people's descendants and sound health by beating the drum from both sides. The sound echoes throughout Kokura area.
Kurosaki Gion Yamakasa Festival is held in the third weekend of July in Kurosaki area. The nickname for Kurosaki Gion Yamakasa Festival is "Battle Floats" since the decorative floats snake in the street and spin round and round! The decorative floats are illuminated gorgeously at night and the highlight of this festival is that eight decorative floats gather on the street for a timed race at the Yamakasa competition on the last day.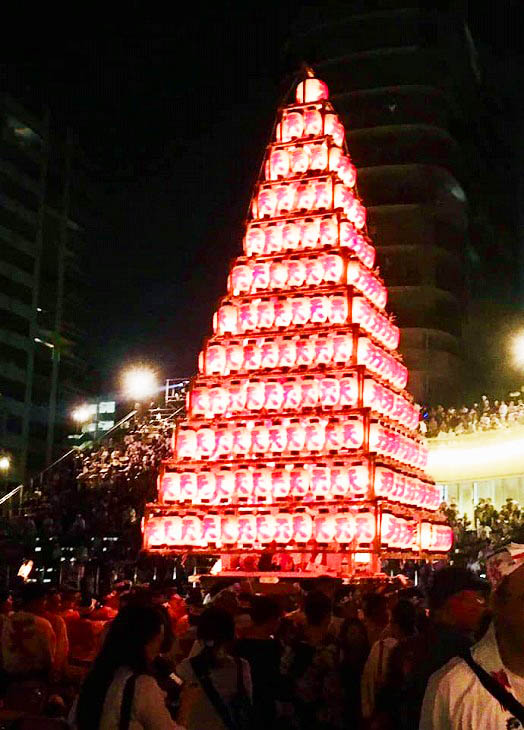 Tobata Gion Oyamagasa Festival is held in the last weekend of July. Huge floats 10m tall and weigh 2.5 tons are carried through the Tobata area, changing to its form with "the float with embroidered banners" in the daytime to "Pyramids of Light" at night. It was designated as a UNESCO Intangible Cultural Heritage and an important intangible cultural folk asset of Japan.
Kukinumi Fireworks in Wakamatsu is held in the third weekend of July.
More than 4,000 fireworks will fascinate you over Dokai bay. A 260m-long Niagara Falls-like fireworks sparkling down from the Wakato Bridge, is the highlight of this festival.
Wasshoi Hyakuman Summer Festival which began in 1988, is an annual summer festival held on the first weekend of August in Kokura. It is the biggest festival in the city, and festivities from each of the city's wards are carried out, there is a children's stage and dances are performed by locals. Ten thousand fireworks are launched on the eve of the festival at Mikuni World Stadium.
4. Looks like Treasure Boxes! "Amazing Night Views"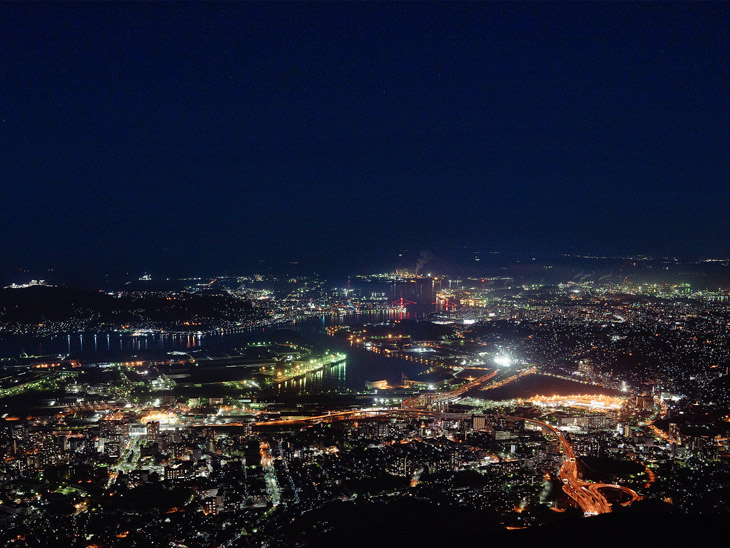 Kitakyushu city was selected as one of the three most beautiful night view cities in Japan. There are many viewpoints in the city. The majority of people visit only in the daytime! It's a shame not to visit these places at nighttime too!
5. A mainstay for Japan's modernization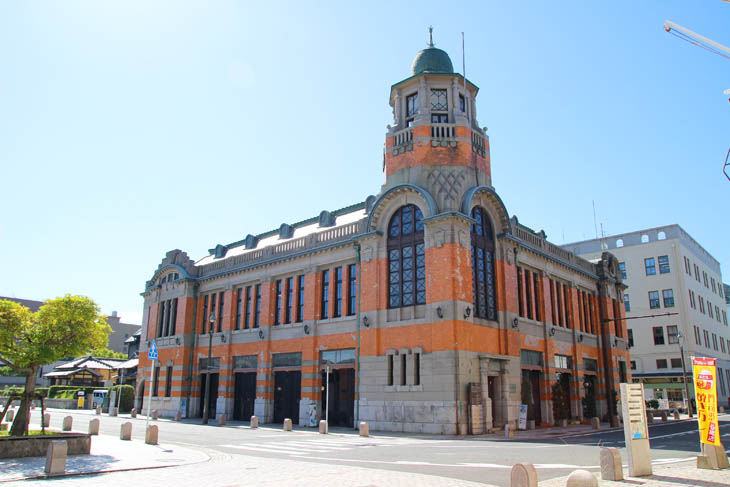 Mojiko literally means Moji port, and was chosen as an important port over 130 years ago by the Meiji government. After the feudal system collapsed, Japan worked hard to catch up with western countries. Western style buildings were constructed after Japan opened the nation. For Japanese people, western style buildings at that time were a symbol of new beginning!
The reason why Mojiko was selected as an important port was that they wanted to extend a railway here and they surmised it could be an indispensable point connecting Kyushu and other places.
6. World heritage sites and great companies leading the world from Kitakyushu!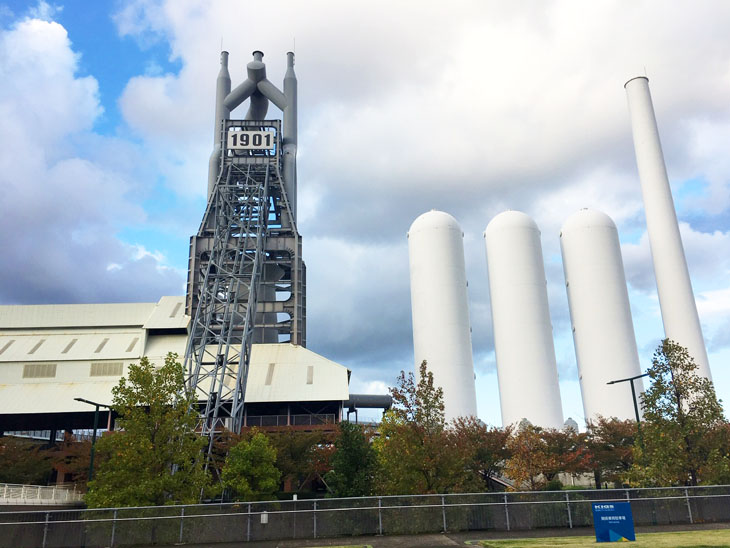 World-famous companies such as TOTO, Yaskawa Robots, Nippon Steel Corporation (former name Yahata Steel Works) and the like, have their main office in Kitakyushu city.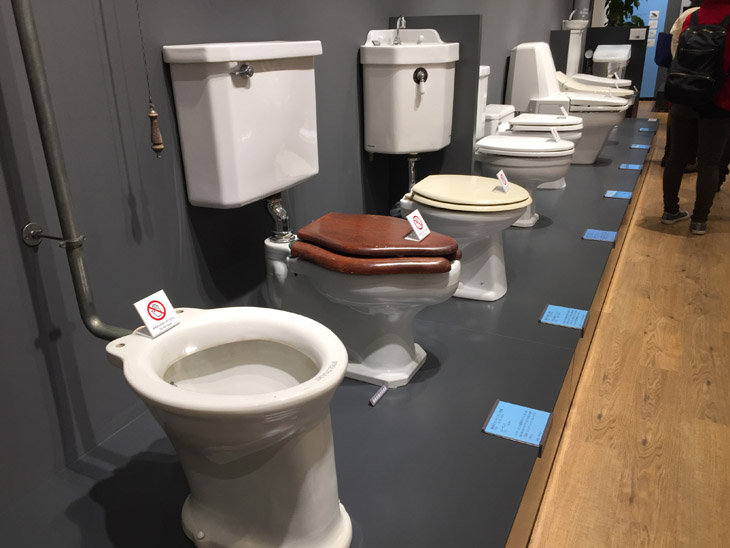 TOTO produces high quality sanitary ware. TOTO Toilets Museum is one of the most unique museums in Japan.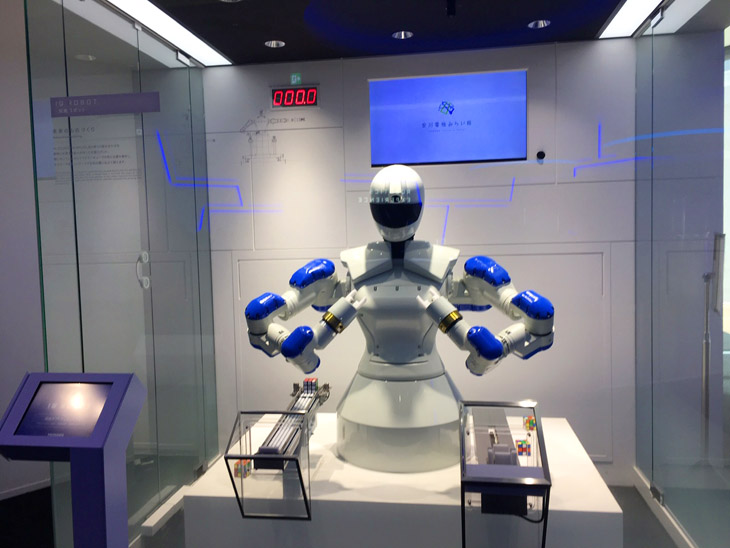 Yaskawa Robots are one of the top robotic companies in the world, selling industrial robots with high robotics technology. Here, you can visit 'Mirai-kan' to see futuristic robots and related parts (need a booking and a group must be more than 10 people).
Yahata Steel Works was founded in 1901 by the government, and it influenced Japan's economy for a long time. Some facilities of Yahata steel works were designated as UNESCO World Heritage-Sites of Japan's Meiji Industrial Revolution.
7. Knowledge of Environmental technology and "SDGs"!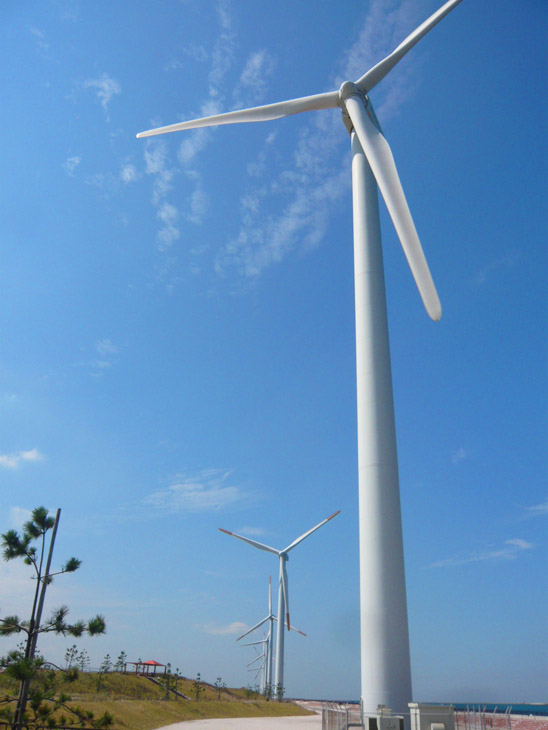 After WWII, Kitakyushu flourished as an industrial city and contributed to Japan's modernization and rapid economic growth. However, this growth polluted the sea and the rivers at the same time. Even fish couldn't live there, and people called it a "Dead Ocean".
The first group who made a movement to solve this problem was a group of mothers who worried about their children's health. A public movement and the mass media raised awareness about the environmental problem and urged the city to face the challenge of antipollution.
In the 1980's, the environment dramatically improved thereafter. From this experience, the city is now designated as an Eco-technology city by the government. The city is selected as an SDGs (Sustainable Development Goals) future city thanks to this experience as well. You can learn about this experience from study tours in the city.
8. Getting hungry? Find delicious food in a gourmet city!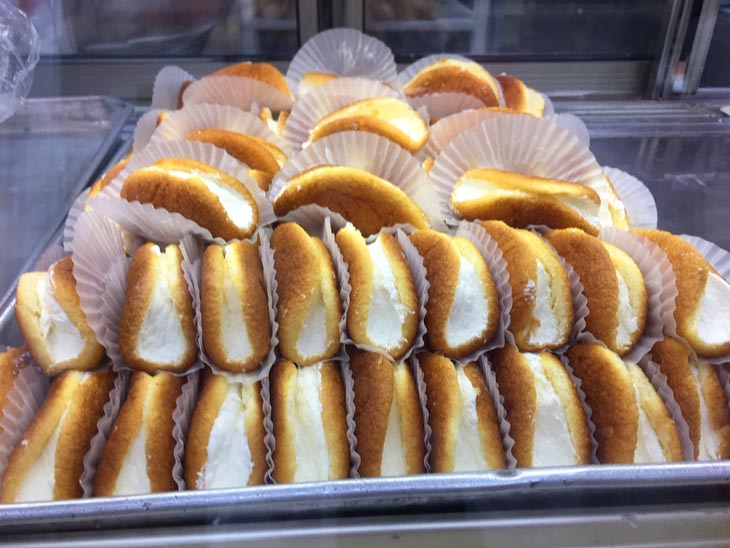 Shiroya, is the most famous bakery shop in the city, selling handmade breads and sweets at reasonable prices.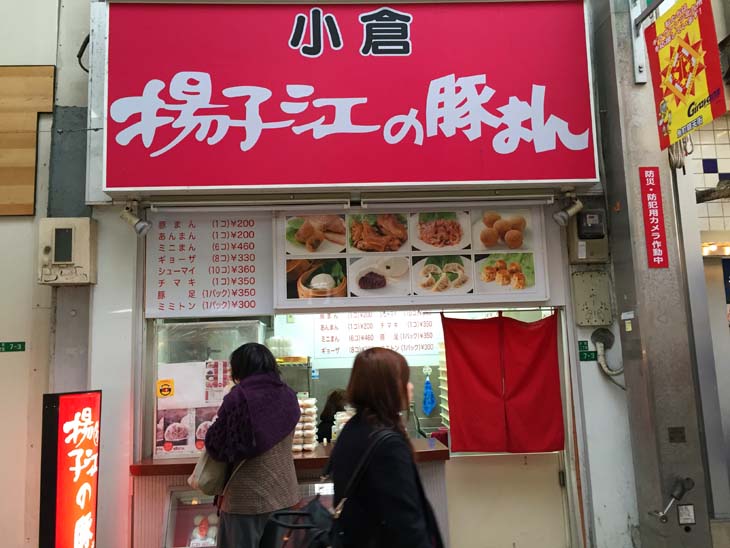 Yosuko Nikuman, steamed buns with meat fillings, are very popular among locals.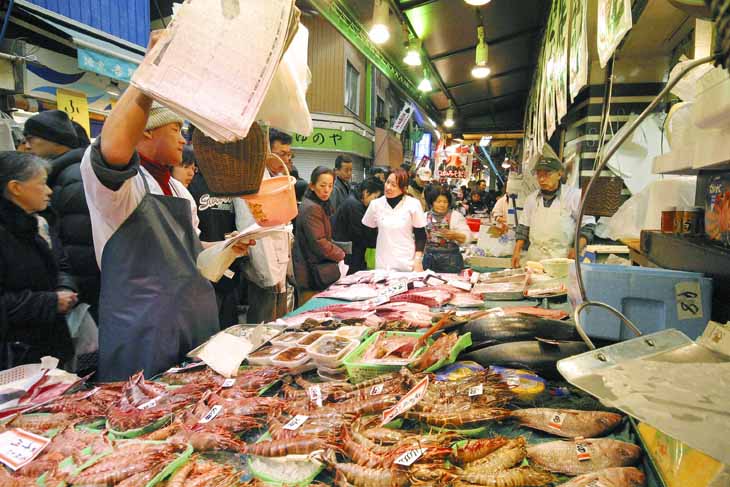 Tanga Market is a typical Japanese market. There are more than 120 shops in the 180m long arcade. One of the local specials is "Nuka-daki", which is boiled fish with paste made from rice bran and soybeans. It goes well with rice and sake!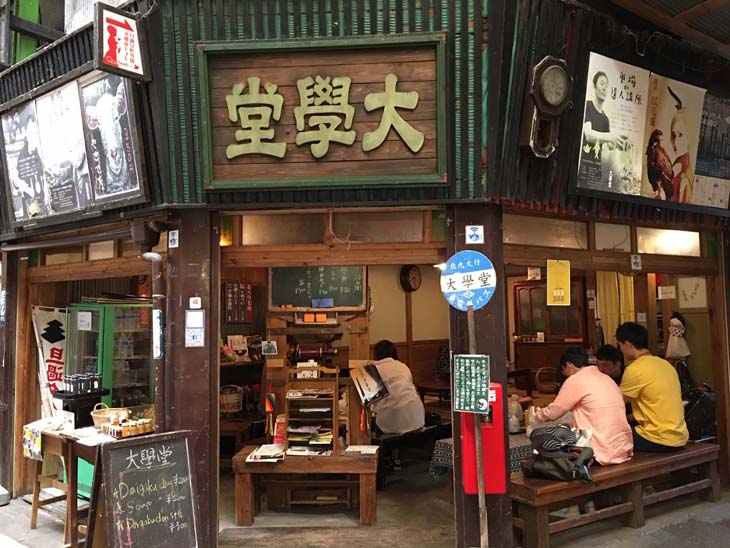 Daigakudo café is owned by Kitakyushu University students, and they offer a unique menu called "Daigaku-bowl". Holding your rice bowl in one hand, you can walk around the market adding only the ingredients you want to eat. You can make a custom-tailored dish in your own bowl!
Authentic Sushi restaurants. There are some authentic sushi restaurants in Kokura. Many celebrities visit Kitakyushu only for the purpose of eating sushi.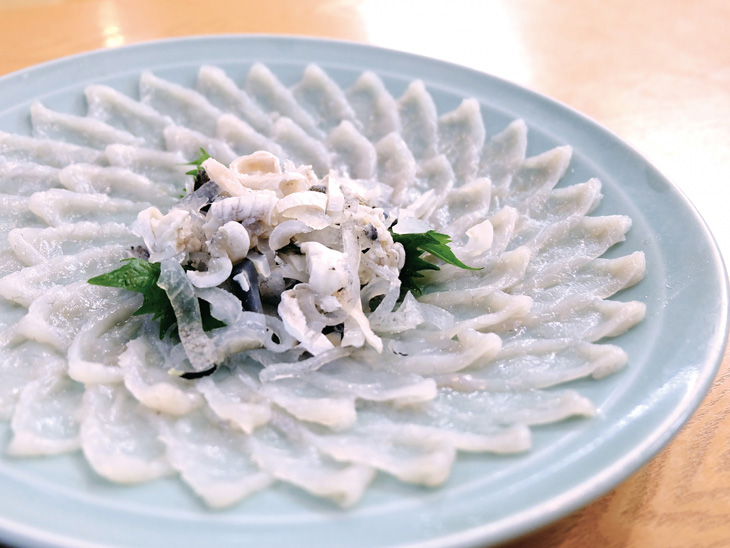 Puffer fish. Yes, Japanese people eat puffer fish! Licensed chefs dress puffer fish and make puffer fish sashimi. Fried puffer fish is popular as well. Why don't you try it while you are in Kitakyushu?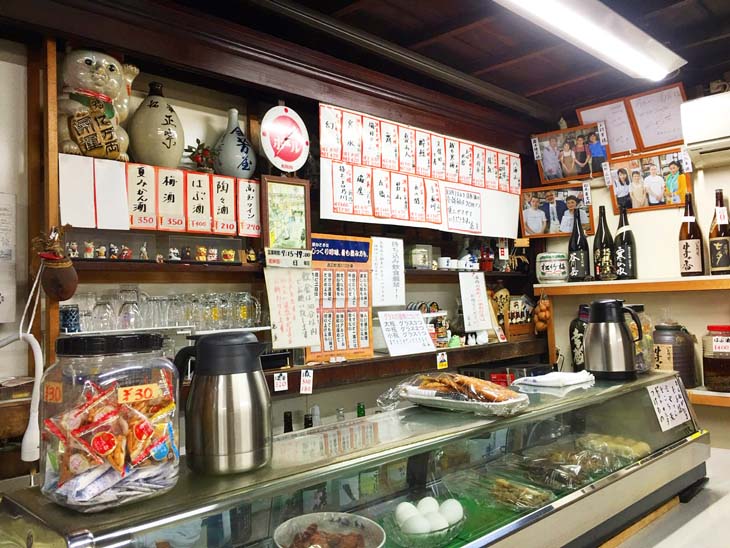 Kakuuchi originates in the city of Kitakyushu. It refers to the liquor shop where you may drink while standing with dry snacks or handmade food. The city of Kitakyushu flourished with Yahata steel works, and Kakuuchi culture spread to the shift workers at the steel works.
The shift workers who finished their work in the morning or daytime stopped by a liquor shop to buy some drinks and they quenched their thirst at the shop before going home. Why don't you experience the unique Kakuuchi in the city?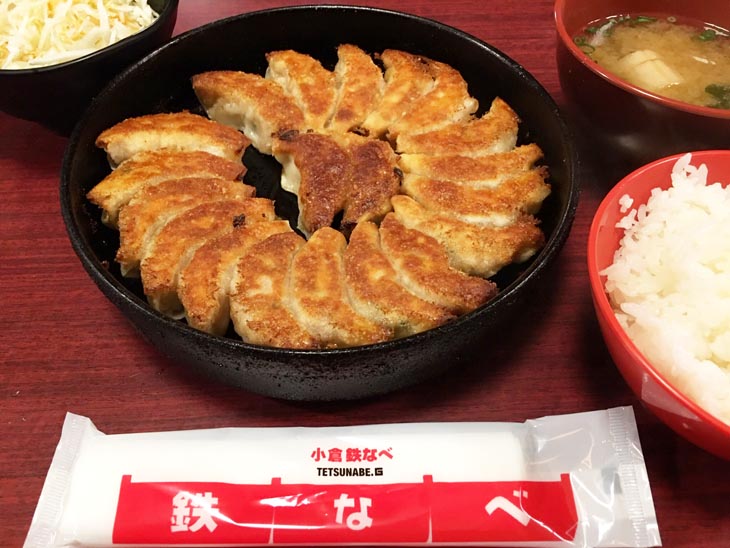 Tetsunabe Gyoza are dumplings with minced pork, vegetables and garlic stuffing heated on an iron pan. It originates in Yahata, Kitakyushu. The steel workers loved Tetsunabe Gyoza because it was a stamina food available at a reasonable price.
Sukesan Udon is a long standing udon noodle restaurant and loved by locals. One of the most popular kinds of udon noodles is 'Niku&Gobo', which is toppings of sliced sweet beef and fried burdock on the udon noodles!
9. Traditional and unique souvenir selection!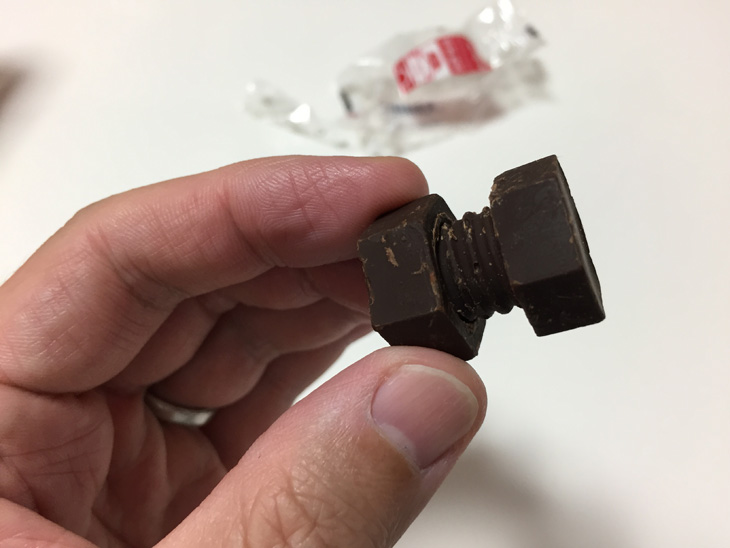 Unique souvenirs would be 'Neji' chocolate and 'toilet' chocolate. Neji is a screw. The city of Kitakyushu flourished with the steel works and some steel works facilities are designated as UNESCO world heritage sites. Screwed shaped chocolate was created to revitalize the city, and amazingly, the chocolate can screw like a real screw! Toilet chocolate is derived from TOTO company. Isn't it interesting to eat toilet-shaped chocolate?
10. Beauty of nature! Explore Hiraodai Plateau.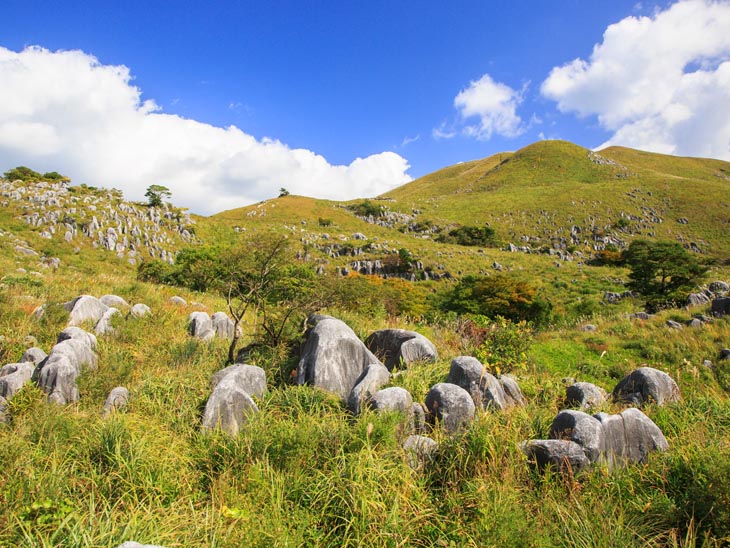 Hiraodai karst plateau is located in the southeastern part of the city. A short 45 min drive takes you to a quasi-national park, called Hiraodai karst plateau. The limestones which are ubiquitous on the plateau look like a flock of sheep! There used to be a coral reef near the equator about 3 billion ago, and the limestones were moved to Kitakyushu city due to tectonic plate movement under the ocean floor.
Today's Hiraodai Plateau was created over a long period of time. Explore the underground limestone-cave beneath the plateau which is very popular among locals. Enjoy the history of earth!
11. Come walk under the sea with us!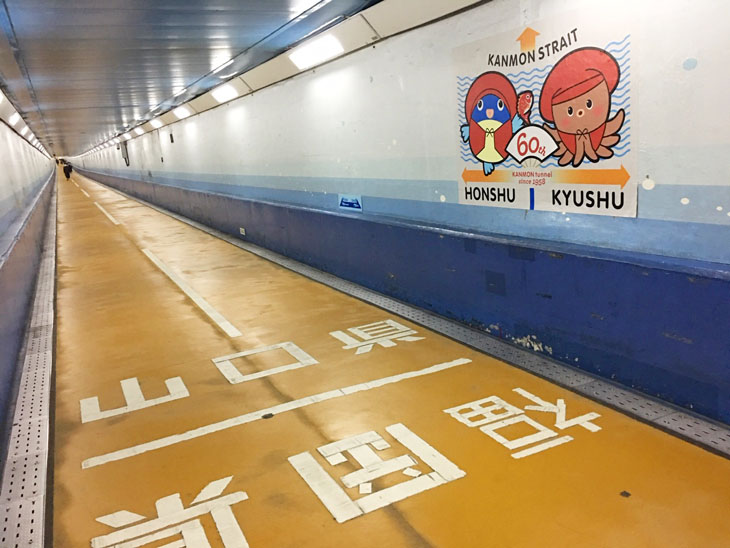 Want to do something different from others?
Japan is surrounded by the sea, and it consists of the 4 big islands of Hokkaido, the mainland called Honshu, Shikoku and Kyushu. Kitakyushu is located in the northern tip of Kyushu. Kyushu and the mainland are separated by the Kanmon straits. There are 3 tunnels and a bridge connecting Kyushu and the mainland, and one of the tunnels is for pedestrians.
Have you ever walked under the sea? It will be a unique experience to step over the border between Fukuoka prefecture (Kyushu) and Yamaguchi prefecture (the mainland) in the tunnel!
12. Aspect as a mecca of Anime!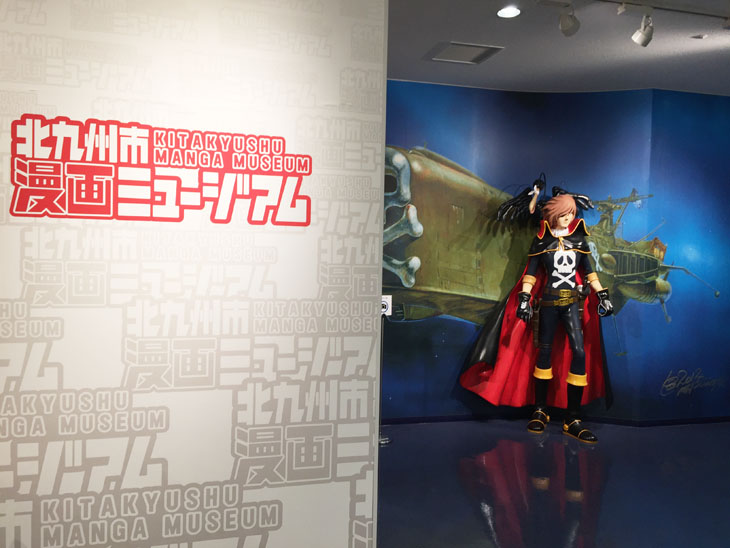 The city of Kitakyushu is well-known only to those in the know who are anime fans!
Why anime in Kitakyushu?
Good question! The city flourished as a industrial center and many people gathered there to find jobs after WWII. Many kinds of pop culture and entertainment were widespread among those people. Anime was one of them! Let us introduce you to what you can enjoy in our city. Why don't you visit a Mecca of Anime and experience something different from anywhere else?
Kitakyushu Manga Museum
The honorary director of the Museum is Reiji Matsumoto who is the famous manga artist of 'Space Pirate Captain Harlock' and 'Galaxy Express 999'. This museum is designated as one of Japan's 88 sacred places of Anime. You can learn the history of Anime and anime artists associated with Kitakyushu. Find one of your favorite manga from 50,000 manga books which someof them are translated into English and enjoy reading there! Exciting workshops are held to satisfy you.
Aru Aru City
There are a lot of amazing anime figure shops, a photo studio for cosplayers and a maid cafe in the same building as the Manga Museum.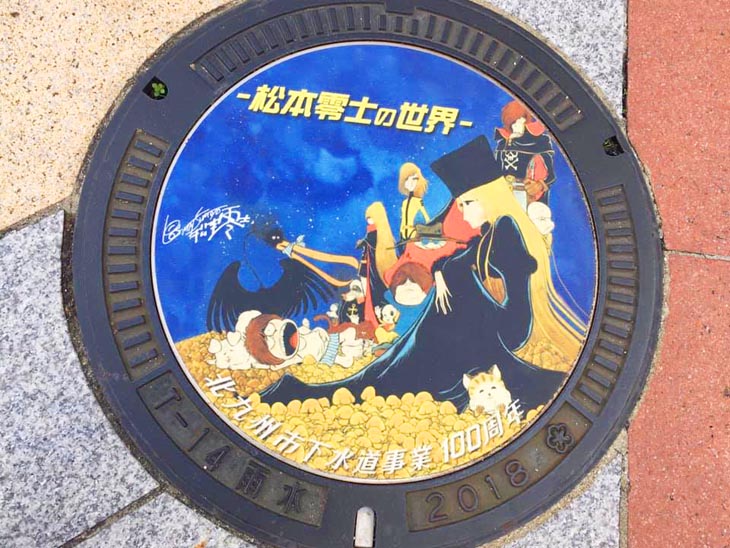 Wow! Manhole covers are decorated with Anime! There are 10 manhole covers decorated with Galaxy Express 999 in the Kokura area and the airport. Let's go to take pictures of 10 series to post in your social media!
Statues of anime characters are waiting for your visit at Kokura station.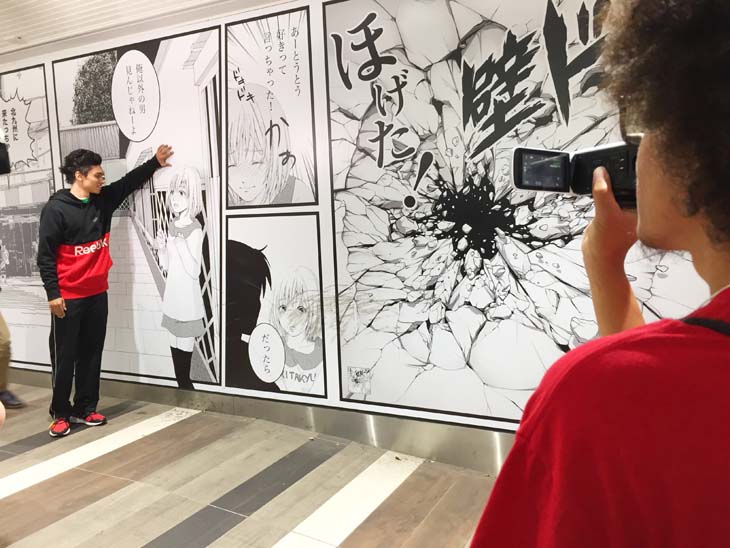 There are anime painted on walls and trick arts as well. It'll be a perfect time for you to be a main anime character here when you visit Kitakyushu.
It's your show time! You can sing anime songs at 'Anime-song Karaoke Bar'!
Anime! Anime! Anime! The icon of the city, the monorails are also decorated with anime. Anime are ubiquitous in the city!
Furthermore, Kitakyushu Pop Culture Festival which is the biggest pop culture event in Kyushu, is held to enjoy talk shows by voice actors and actresses, anime songs lives, displays of anime and costume play every year.
The Asia Manga Summit, an international conference which was attended by manga artists and researchers from Japan, China, Korea, HK, Taiwan and some more countries, was held in Kitakyushu on Dec, 2019. Exhibitions for both professional and amateur manga artists, are held to show and sell their works in Kitakyushu as well.
We are looking forward to seeing anime lovers immerse themselves in the Mecca of anime, Kitakyushu! Let's enjoy discovering Kitakyushu with us!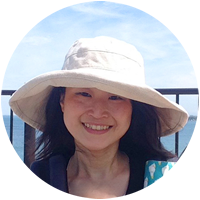 Kaori Ashida
Licensed National Guide, Certified General Travel Services Manager, 1st Grade Instructor of Inbound Tourism. 17 years of experience in the tourism industry, including working as a tour guide in Australia and Canada for Japanese tourists. I love traveling, eating, and taking beautiful pictures!
Are you a travel lover? Do you want to try a new experience? If yes, check out my articles for your traveling tips. Other than being a professional and friendly guide, I share travel information about Japan as a freelance writer.
We can arrange tours around Kitakyushu area, chartered bus, taxi, hotel/ryokan, English speaking tour guides and etc in accordance to your request. If you have any questions and inquiries, please don't hesitate to contact us.
Kokura Walking Tour
Mojiko & Shimonoseki Tour
Custom & Private Tours in Kitakyushu